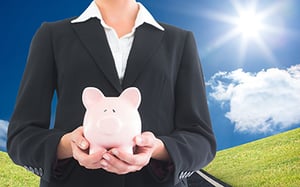 In the current state of economic uncertainty, with the Banking Royal Commission, record low interest rates, and conflicting views about the health of our economy, some consumers are tempted to 'throw the baby out with the bath water' and hide their retirement savings under the mattress, instead of seeking financial advice. It's a shame, because research shows that having a dynamic, productive relationship with a trustworthy, experienced and independent financial adviser helps improve wealth.

We know that many Australians worry about money and experience some level of financial stress. According to the Australian Psychology Society, financial issues are the leading cause of stress, higher than worries about health. Indeed, financial stress is bad for our families and our communities.

In research recently undertaken for Sunsuper, which is publicly available, Core Data found that consumers who have an active relationship with a financial adviser are demonstrably better off financially.

We also know through the research that with support, an organised approach, plus active and regular reviews, an adviser can reduce a client's financial stress. This will help them to worry less, have less tendency to turn to things like alcohol and drugs, sleep better and improve the quality of family relationships.

With the likelihood of making less mistakes, and even enjoying the wealth journey more, I find it surprising, and concerning, that many Australians do not have a financial adviser, or prefer to go and see the big banks, like the Commonwealth Bank (10% of new business) or Westpac (5% of new business), for their advice. During the Royal Commission, the banks have been held to account for a clear lack of customers' best interests, and conflicts of interest, so no longer contain retail wealth arms. Westpac has sold their wealth business, the CBA has also sold their financial planning division, ANZ's has gone to IOOF and NAB is yet to fully decide (I won't even mention AMP).

There are, of course, many reasons why someone would not choose to access the services of a financial adviser, such as a perception that their circumstances aren't complex enough, they don't have enough money, or they may just not trust advisers!

A good financial adviser can formulate a plan to grow your personal wealth, considering your specific circumstances, and work with you to achieve your financial goals. They can also work with you to alleviate debt and incorporate debt as part of complete financial plan. This will allow you to take control and be clearer about how it might affect your future wealth. An adviser can help with questions like: When will the loan be repaid? How will I repay it? Should I even worry about my loan? Are there other debts to focus on instead?

If it all feels too hard, people disengage.

Advice is only helpful if it is accessed

Financial planning is not complex. It's about gaining an understanding of your circumstances, and what you want to achieve, then helping you measure the gap and set a course for achieving those goals.

It is therefore not surprising that a client feels relieved when they're presented with a financial plan. They might also feel inspired and optimistic, with a sense of control, but then they might not actually change anything.

In order to realise meaningful benefits through change, we need to learn to adjust our long-term behaviour. According to Harvard psychology professor Tal Ben-Shahar, the key to creating lasting change and ultimate success lies in three intentional behaviours: reminders, repetition and rituals. This is a useful framework for a financial adviser, seeking to execute on advice and help a client achieve their goals.

If you would like a review of your situation or know someone that might benefit from an advice relationship, please contact us.


The information contained in this article is of a general nature and does not take into account personal circumstances. Before making any decisions based on the factual information contained in this document please consult with your financial adviser.